---
---
This exclusive formula is excellent as a lipid replacement product and as an emollient and sealant to be applied after all hydrators or moisturizers. It contains Passiflora edulis seed oil (passion flower) and Vitamins A and E as antioxidants. It also contains ceramides (lipids which form a protective barrier) and sphingolipids (fatty acids) that provide a restorative effect on damaged skin.
Passiflora edulis seed oil (passion flower): rich in Vitamin A, supports barrier function, an emollient, protector, and antioxidant

Sphingolipids: emollients which provide restorative effect on compromised skin barrier

Vitamin E (tocopherol acetate): antioxidant and preservative

Vitamin A (retinyl palmitate): supports collagen, smoothes texture, and increases skin thickness

Excellent for environmentally damaged skin, and offers antioxidant support and lipid replacement

Cruelty Free | Fragrance Free | Mineral Oil Free
Noncomedogenic | Paraben Free | Water based
How to Use
Apply 2-3 drops of ACCELERATE repairing as the final step before applying SHADE SPF 30 environmental protection.
What's Inside
Cyclopentasiloxane, Dimethicone, Octyldodecanol, Dimethiconol, Ethylhexyl
Cocoate, Passiflora Edulis Seed Oil, Phenyl Trimethicone, Tocopheryl Acetate, Glyceryl Linoleate, Glyceryl Linolenate, Glycolipids, Lecithin, Tocopherol, Retinyl Palmitate
Bio-Therapeutic products and equipment are not intended to treat or diagnose any medical conditions.
---
Customer Reviews
02/11/2020
Lisa C.
United States
Keeping me young
I'm always looking for preventative measures to keep me looking young and recently re upped on this. While I've always obsessively moisturized and used SPF, 'skin barrier' protection is new to me. And I love it. I like that I'm getting noticeable improvement on top of the long term less obvious effects.
01/22/2020
Maiya B.
United States
Cured me
If you're dehydrated and it shows stop and get this immediately!! I was stressing over my unusually dry skin this winter and was recommended this by my skincare guru of a bestie and she was right. Within a week of using this every night my skin was better than ever. 10/10 would recommend!
01/13/2020
Stephanie D.
United States
Miracle Worker
If your skin struggles with traveling, I highly recommend this. I travel frequently (4 or 5 trips a year) and it used to wreak havoc on my skin. I was always so dried out after a flight. A friend of mine introduced me to this after she had found it and been packing it for her trips. It's a miracle worker, I swear. I put a layer of this on before getting on the plane and it locks everything in.
01/13/2020
Tolu
United States
Get the most from you moisturizer
I probably don't need anything this intense because, honestly, I have totally normal skin. THAT SAID, I still bought this! And I still love it! I use this every other day in the winter but still pull it out at least once a week when it's warmer out. Just such a quality, hydration intensifier. Really even if you're just looking to make the most of whatever moisturizer you already use this is such a gem to throw on top at night and really lock it in.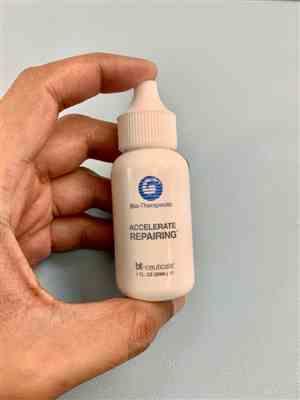 01/09/2020
Beki
United States
Saved my burnt face
Over the summer I got SO sunburnt on my face and was peeling something fierce. I was hydrating but it wasn't cutting it. Then I got this game changer. I started putting it on after all my moisturizing products at night. Within a week my skin was saved. Could not be more grateful for this stuff. I still use it every once in a while when I'm feeling particularly dry or if I've gone out and my don't want my skin to show it.